New Limited Edition Double-CD Available Jan 03, 2023 !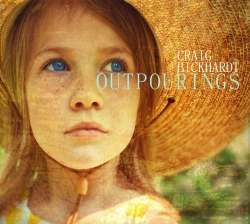 Craig's new Double-CD "Outpourings" is now available! Twenty-six songs, two years in the making, a lifetime in preparation, this is a gift to Craig's many friends, family, fans, and followers. Assembled during the pandemic, the Special Collector's Edition is limited to 350 copies, so don't delay! Here is what Grammy Nominated music journalist Barry Alfonso has to say about the project: "Outpourings is the work of an artist who has lived enough and dreamed enough to know the weight of a simple lyric line and the power of a melody to summon angels and keep demons at bay. There's a wealth of experience in this music, tapping into years of writing and performing before crowds and in quiet solitary hours. But more than that, there's a sense of unrestrained wonder that Craig has never lost since he first picked up his guitar. As he sings, he 'lives for this' and he can't keep what stirs in him to himself. Defiance… acceptance… wanderlust… reconnection. These themes resonate within 'Outpourings'. The journey is one of eternal return, with a thousand detours and surprises." Pick up your copy today while they last! To listen to song clips, go to

OUTPOURINGS CLIPS





USA Orders - $25 including shipping




Foreign

Orders

- $38 USD including shipping



All orders are processed on a first-come-first-serve basis.


REMEMBER TO INCLUDE YOUR SHIPPING ADDRESS WITH PURCHASE

!!
To order the Double CD click below:
PaypalMe Directly


New CD Available August, 2018 !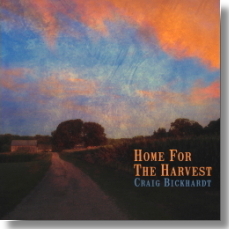 "With his latest release, HOME FOR THE HARVEST, Craig Bickhardt demonstrates that folk music needn't be musically dull or iterative. Always in search of forms that challenge not only his songwriting abilities but also his considerable guitar chops and vocal skills, Bickhardt's accessible style is nearly unparalleled in the genre today. There are singers and there are pickers and there are song poets, but very few do all three as well as this."


Pick up your copy today!





DOMESTIC USA SHIPPING - USE THIS BUTTON:



FOREIGN SHIPPING OUTSIDE USA - USE THIS BUTTON:


New Limited Edition Live CD Available Jan 11, 2017 !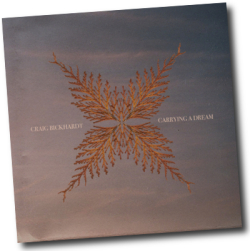 To commemorate ten years of exciting shows @ Burlap and Bean Coffeehouse in Newtown Square PA, Craig has released a new

Limited Edition CD

called "Carrying A Dream" that was recorded Live at Burlap and Bean. Craig's 1st show at Burlap and Bean took place on January 17, 2007. Only five people were in the audience that night, but Tara Endicott, the owner of the cafe, believed in her dream of creating a premier listening room and she believed in Craig's music. Since then the shows have consistently been sold out. On February 11, 2017 Craig and his daughter Aislinn will play a special 10th Anniversary concert at the coffeehouse that will also include Tommy Geddes on percussion (get show tickets here).The new

Live CD

will only be available for

ONE MONTH

online beginning Jan 11, 2017. [Update 8/18 CD is OOP]


Another New Idlewheel EP-CD (Dec 2015)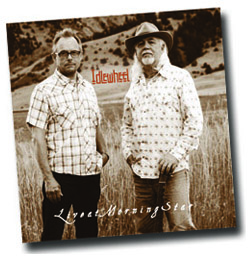 Craig has been concentrating his studio efforts around the Idlewheel duo lately. The duo, consisting of Bickhardt and long-time collaborator Jack Sundrud has been touring in 2015 and plans to do more performing together in 2016. Recorded live before an intimate audience in the studio and mixed by two-time Grammy winning engineer Glenn Barratt, Idlewheel's "Live at Morningstar" captures the spirit and power of their stage performance with all the clarity and nuance of state-of-the-art technology. Craig and Jack are joined here by Philly session drummer, Tommy Geddes for a memorable set of Idlewheel "hits" and a few new gems. You can preview a couple of tracks and purchase a copy of the disk from the Idlewheel Website.


New Idlewheel EP-CD (June 2015)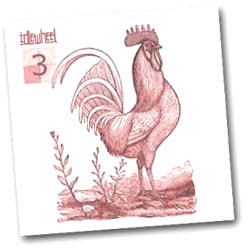 Craig Bickhardt and Jack Sundrud
have released a new CD together as Idlewheel. This is the duo's third record and is appropriately titled "Idlewheel 3". The disk brings you 6 new tracks from one of Americana's enduring songwriting partnerships. With sweet harmonies, soulful songs and full band production, this collection builds on Idlewheel's solid tradition of craftsmanship and artistry. You can listen to a couple of song clips or pick up a copy of the CD from the Idlewheel Website. The boys have also released a new full-length video of one track called "Love is Where You Are". Watch it on You Tube here.


Best of 2014 (Jan. 2015)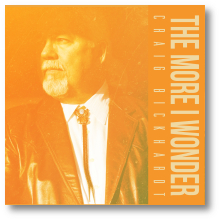 Craig's latest CD was named by the iconic SingOut! Magazine as one of the "Great CDs of 2014" (See entire list here)
. The CD was also included on the following year end lists:

-Four Strong Winds Radio Show ~ Favorite CDs of 2014

-Favorite CDs 2014 ~ the Hudson River Sampler Radio Show

-Top 30 Albums Of 2014 ~ The Back Porch Radio Show

-Roots Music Report (RMR) ~ Top 100 Americana Country CDs:
#53 Craig Bickhardt "The More I Wonder"

-The FOLKDJ-List (National):
TOP ALBUMS OF 2014 - Craig Bickhardt "The More I Wonder" #65
TOP SONG OF 2014 - #91 Craig Bickhardt "Giant Steps"
TOP ARTIST OF 2014 - #79 Craig Bickhardt
TOP LABELS OF 2014 - Stone Barn Records #40 of 250 Labels

-Stingray Music (formerly Galaxie):
Top Airplay Albums for 2014 - #117 Craig Bickhardt "The More I Wonder"


Idlewheel Tour (August 2014)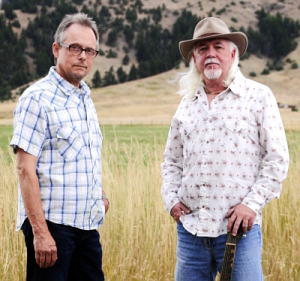 Thanks to all who came out to support the "Idlewheels Across America Tour" this past August. Jack Sundrud (l.) and Craig Bickhardt (r.) made stops in Oshkosh WI, Oklee MN, Fargo ND, Cody WY, Bozeman MT, Boise ID, Worley ID and Sandpoint ID where their audiences were treated to 2 hour+ shows featuring the duo's trademark harmonies, soulful songs and witty banter. Stay tuned for more info about future Idlewheel shows or visit the
Idlewheel website
.
The Latest Feature Stories (July 2014)






American Songwriter Magazine recently published an advance chapter from Craig's as-yet unpublished book on the creative process. The piece, titled "The Song Emerging", appears on ASM's Guest Blog page HERE.





Michael Rogogna of the Huffington Post recently interviewed Craig in depth about the new CD, his days in Nashville and his plans for the future. Read the interview (note: Craig is the fourth "conversation" so you must scroll down to the picture of the new CD- the interview begins just below that.) HERE.




Poll Star Magazine's Jay Smith recently sat down with Craig for an in depth interview about songwriting. The interview (interspersed with some You Tube vidoes from live shows) can be read HERE.



New CD Available Now! (April 2014)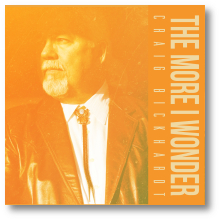 Craig's long awaited new CD

"The More I Wonder"

is available NOW directly from the artist here on the website. The record contains 12 new tracks described as "12 Scenes From Life, Love and Family". It comes with a 20 page Lyric and Photo booklet. The official release isn't until May 6 but your order will be shipped right away so don't wait, get your copy today!


Order Link






Pledge Music Campaign (February 2014)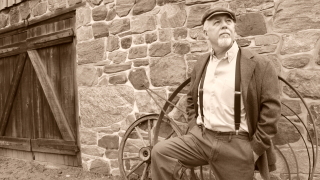 "We're over 64% of the way to our goal in the Pledge Music crowd funding campaign with less than three weeks to go! Thanks for your help with this project. I've been featured on the Pledge Music website's Charity Spotlight page. Please check out the interview
HERE
and let your friends know what we're doing together: Making music and making a difference!
"
New CD Coming April 2014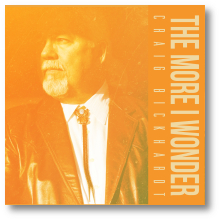 Craig's long awaited new CD will be released in early April and will contain 12 new tracks. He is currently raising funds to complete and promote the record via the crowd funding website Pledge Music.com. You can
Pre-Order the CD
at the Pledge Music page
here
. If you'd like to pledge more to the campaign, contributions are gladly accepted. Each pledge above and beyond the CD purchase generates more exclusive merchandise such as a Limited Edition "Bare Bones" mix CD that includes 3 songs that won't be available on the regular CD. In addition, each pledge generates a special "Give Back" aimed at humanitarian and environmental causes. Craig says, "I realized that if I were going to try to raise money for this CD, there just might be a way to make it matter above and beyond the music. What I came up with is this PledgeMusic campaign in which you agree to pledge an amount of money to me and I pledge to do something to make a small difference in the world." The Give Backs include performing an act of kindness to a stranger; doing some volunteer work for a charity; a show of solidarity for a prisoner of conscience; an act of compassion for a sick and suffering child, a renewal of the wilderness or the clean-up of a neighborhood. You can read more about the campaign
here
.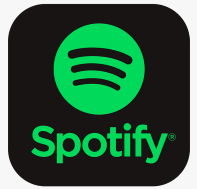 Mgmt:

Larry Ahearn (610) 574-6276


Radio:

Trespass Music